Landlords are required to ensure that any and all soft upholstered furniture and furnishings (including blinds and curtains) within their property are "Fire Safe".
What does "fire safe" mean?
Upholstered furniture and furnishings are considered "fire safe" when they comply with all fire resistance requirements laid out in the Furniture & Furnishings (Fire) (Safety) Regulations 1988. The most common tests are the "match test" and the "cigarette test" – which is why lots of labels will feature black symbols of lit cigarettes and matches.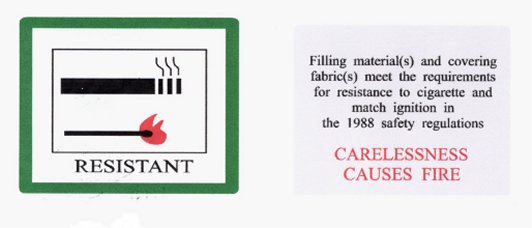 How can I tell if my furniture is "fire safe"?
If you purchased the furniture in the UK from a reputable trader after 1988, then it should be "fire safe". To check, you should look for the "permanent" label, which should be stitched on somewhere out of sight.
We will usually make you aware of this when we are taking your property on for the first time, however, from time to time the inventory clerk will note that there are no "fire safe" labels on items within the property and then we will ask you to confirm that you purchased the items within the UK from reputable traders after 1988. This helps you ensure that your property and furnishings are compliant.
For more information please visit https://www.firesafe.org.uk/furniture-and-furnishings-fire-safety-regulations-19881989-and-1993/